Cashfloat Loan Alternative
When it comes to choosing a loan, you may browse through a number of direct lenders that you could borrow with. But the thing is… which one is best for your personal circumstances? If you're thinking about taking out a loan with CashFloat, you may have realised that they don't offer what you're looking for. Why not consider PM Loans as a CashFloat loan alternative.
Who is CashFloat?
CashFloat is a new loan company that operates in the UK. They provide loans such as bad credit loans. CashFloat loans require no collateral or security plus they're no guarantor loans. However, at PM Loans, we offer similar services but our main difference is that we offer a lower loan amount bracket catering to those after quick payday loans.
How does PM Loans compare to CashFloat?
Cashfloat are a direct lender, likewise to PM Loans. However, we are a broker as well as a direct lender. Therefore, giving you more options to meet your financial needs. Also, from Cashfloat you can get loans from them with amounts ranging between £400 and £1500. Whereas with PM Loans you're able to get loans ranging between £50 to £1500.
Moreover, with us, you can customise the monthly repayable duration between 1 month and 12 months to perfectly suit you. On the other hand, with Cashfloat, the monthly repayments are set depending on your borrowing amount. Therefore, decreasing your flexibility with the repayments and possibly being a nuisance if you would like to get the loan paid off ASAP.
Loan Comparison: CashFloat Loan Alternative
When it comes to choosing your loan, you're bound to want to see the difference in both direct lenders. As CashFloat offer loans starting at £400, we at PM Loans could be a great CashFloat loan alternative that you need as our loans begin as low as £50. Here are some key differences: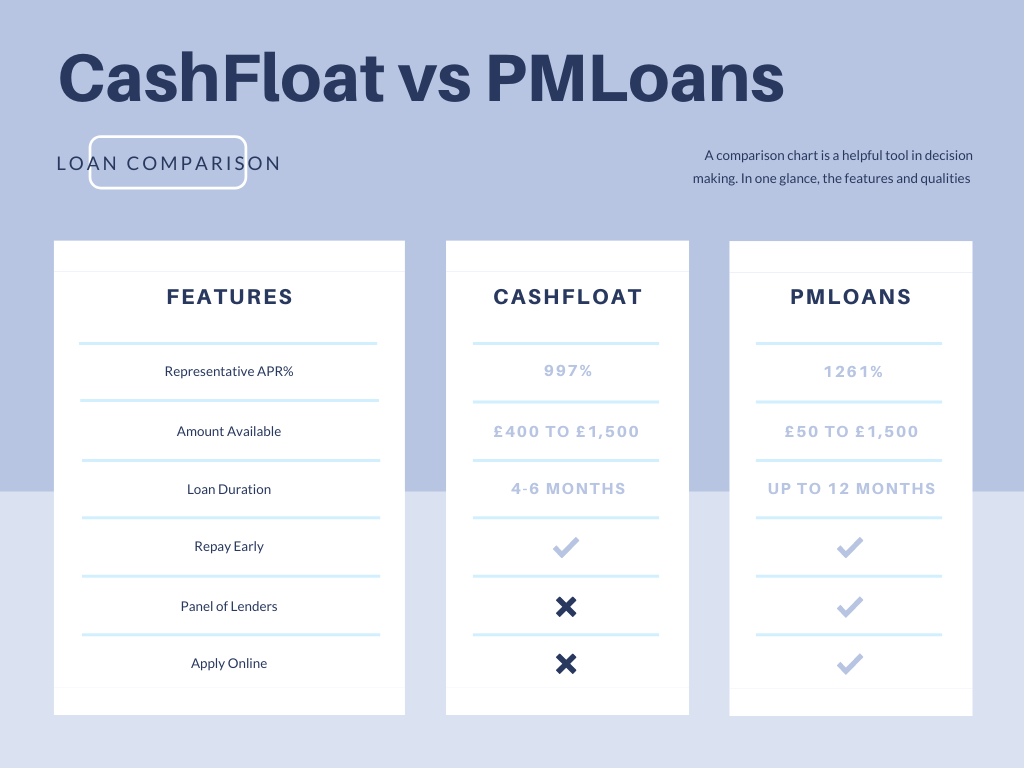 Applying with PM Loans
In order to apply with PM Loans, all that's much-needed is filling out our acceptable and quick online application form. We suggest that you conclude our application process in full. Try and fill in the application as honestly as possible. This way we can evaluate to our best ability whether or not you're eligible for the abundance of our short term loans that are available.