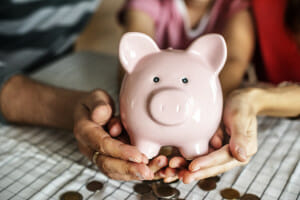 Is Saving For Your Child's Future A Good Idea?
Saving for your child's future is something which some families choose to do throughout their child's life. Some people even choose to embark on their savings journey before the child is born. Allowing your child to begin their adult life with a specific amount of money, whether they are leaving home or studying at University, will definitely benefit them. But, that does not mean that there are no downsides. Children are expensive, with the cost of living increasing everything is costing more money. So, realistically although the thought of having money saved is great, is it the best for you and your finances?
The pros and cons of saving
There are plenty of pros and cons on both sides of the equation. Saving for your child's future is something that is not just going to be looked past. It is something which will physically help your family. They have a sum of money which will either keep them in a comfortable position for a duration of time will support them along the way. Either way, having some sort of a boost will help your child to go that extra mile. But, even if you do not save any money, your child will still have the opportunity to do the same things, it may just be a little harder or take longer.
Saving money is not something which we need to do, hence why there are millions of families who do not. The idea seems great but there are also multiple cons that can be looked at. One reason is some families believe that a child should learn to save themselves as they grow up and become more aware. If you hand money to your child, they may become completely oblivious to the value.
What should you consider?
Before going full speed ahead due to loving the idea, there are multiple factors you need to consider. The main aspect is the cost, and whether or not you can afford it. As mentioned above, with the cost of children alone nevermind the rise in living costs, everything is already expensive. Definitely more pricey than we all would like it to be. It is completely normal to feel as though you are unable to afford to do this. So, we advise that you do not overspend on saving for something non-essential like this as the last thing you want is to end up in any debt. If you find yourself in a position where you do not know where else you can turn to for financial help, here at PM Loans we can help.
Ways to save
If you come to the conclusion of thinking, yes, saving for my child's future sounds like the best idea, then you can begin to think how. There are plenty of different ways you are able to save easily. Some of the most common include:
Open a Junior ISA
Children's Saving Accounts
NS&I Children's Bonds
Find more information on how to save for your child using The Money Advice Service.