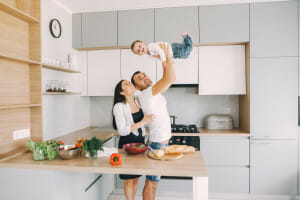 Making A Cheap Meal To Feed The Whole Family
Shopping seems to be getting more and more expensive with the costs of our favourite items rising. Products rising by a small percentage may not actually seem a lot, but when adding it up you'll see it mounting up over the course of multiple months. Feeding a small family isn't always cheap, nevermind feeding a larger one. Whether your household is filled with adults or children, having enough food and feeding the whole family can cost more than you would like. But it does not always have to be this way. There are plenty of ways in which you can feed the whole family using one cheap meal. But you may be asking, how can a meal for a family be cheap? The answer is simple…
According to NibleFins, the average spends on food in the UK is £38.50 per week or £166.8 per month, including groceries, takeaways and restaurants. But, if you follow some of our tips and tricks below you may be able to lower the cost.
Where to shop
There are monthly reports all over the Internet which allow you to see which supermarket has the lowest prices. Typically, the rankings stay very similar each month but they may begin to change from now through to the New Year. 'Which.CO.UK' has covered the rankings of highest to lowest price supermarkets for Novembers. As you can see from the results, Aldi has the lowest prices for November. The rankings also show the difference in prices relating to a weekly shop. Between the highest and the lowest, there is a £10 difference. For a lot of people, £10 makes a huge difference and definitely adds up over a longer period of time. Therefore when choosing where to shop, It is ideal to check over some sort of ranking like this one to ensure you're making the right choice.
Create a meal plan
Creating a meal plan allows you to organise what you're going to make before you do it. People tend to make these in advance on a weekly schedule. But, obviously, there is no timeframe necessary as you could do it for just a few days or even a few weeks. They not only allow you to understand what you're going to eat before going to the shop but also enable you to stick to your list when shopping. This saves you from going off track but still allows you to get everything needed. You could even research how much your shopping will cost before you leave the house. They also allow you to focus on planning a cheap meal instead of panic buying on the spot.
Don't waste anything
Lastly, cutting costs ties in with the amount of produce and the size of your family. Yes, the price of items will differ marginally in different shops but overall your main goal is to feed the family with a small budget. To do this, you do not need to create a new meal every time you go to eat. If one day you have spare amounts when cooking, try putting it in a tub in the fridge or freezer. This can then be used as another meal to save money and save waste.
Around this time of year especially, money can be tight. With the coronavirus cutting jobs and Christmas coming up you may have exceeded your budget a little. The last thing you should do is stress as this can cause other problems. If you feel as though you will be running low on savings for essentials and you have tried every other option, why not try looking for a payday loan?