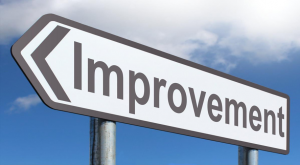 Self Improvement Methods for 2020
Self improvement methods are a usual and common theme on pretty much everyone's New Year's Resolutions. Going into 2020 makes it different though as it's the beginning of a whole new decade and era of your life. This blog post provides advantageous self improvement methods to support you in becoming a better version of yourself in the new decade.
Keep a clean mind with a clean house
Keeping a clean house provides a broad range of advantages for your health & is beneficial for your peace of mind as well. According to the Scottish Health survey, cleaning relieves your stress levels up to 20% while at the same time, boosting your productivity. Tidying your house does wonders. Plus, it can inspire you to deal with tasks that you've been procrastinating and continually putting off.
Begin a new hobby
Everyone has a passion and yours may have not been discovered yet but it's far from too late to find out what it is. This new decade is the perfect time for you to feel fulfilled and discovering a new hobby or simply just starting it is the right way to do that.
Create a vision board
Vision boards allow your mind to run wild. Dream boards are designed to serve as a source of motivation and inspiration. You have the freedom to make it as simple or complex as you like. It can have as much writing and images as you please.
Surround yourself with successful people
Such people are victorious as they embody the right attitude, expertise, and wisdom. What would be a better approach to learning about success than directly from successful individuals themselves?
Create meal plans
Meal planning is a straightforward act of planning any number of your meals for the week. What meal you plan doesn't matter as long as it's prepared. Designing a meal plan in advance allows you to spend less money. You may even fulfil some of your health goals.
Read productivity books
One of the greatest secrets to changing & improving your methods of productivity is by working on your mindset. Making increased productivity a part of your lifestyle may not happen overnight but there are systems such as reading a productivity book daily that can guide you.
Implement regular exercise into your routine
Fortunately, there are a plethora of types of physical activity. Choosing which physical activities to implement into your daily life may be the easy part or the difficult one, depending on if you're interested in sport or not. Implementing exercise into your regular routine has numerous health benefits. It can improve your mood and decline feelings of stress and depression. It reduces your risk of chronic disease – exercise has been shown to improve body composition, cardiovascular fitness, and insulin sensitivity. Not to mention it can benefit your memory and brain health.
Leave your comfort zone
Fear is a normal and crucial part of growth and evolution. Choosing to move outside of our comfort zone allows making your next uncomfortable thing to conquer easier. Also, Facing your fears head-on will give you a rapid boost in personal satisfaction. Leaving your comfort zone is where closed doors will naturally begin to open for you. Not to mention, you'll sharpen unused skills and discover new pockets in yourself that you never knew that you had.