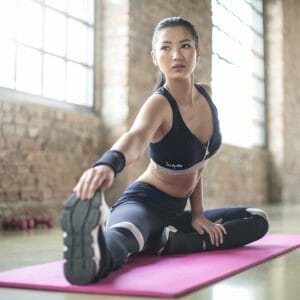 3 Ways To Stay Active in Quarantine
Living in quarantine and lockdown can be difficult. Trying to adapt our normal lives to a world stuck in the same place is hard to do. But, this isn't possible. We can still do our day to day routines from inside our homes. Physical activity is one of the most important factors which contributes to not only our physical health but also our mental health. The activity increases your level of endorphins, these are natural mood lifters. So, not only will you be happier, but you won't feel as bored in quarantine. Carry on reading to learn more about 3 ways to stay active in quarantine.
How Can I Stay Active?
You might think that staying active when your inside your house can be hard, especially if you usually do outside activity or activity at a gym. But, surprisingly, there are plenty of ways you can fit in the minimum advisory amount of exercise each week.
1. Online exercise classes
One of the most common active activities is following online exercise classes. You can find these on TV or on the internet. Youtube also has a lot of videos which you can follow. All you need is a small area which allows you to move about and spread out. This way you can keep fit in a fun way and you might even want to carry on with this after quarantine when everything is back to normal.
To do this, you should designate a certain space for your workout. This way you are not waking up every day wondering where you can workout. It makes the whole process easier to take part in.
2. Getting outside and walking
Online classes are not the only way you can stay active whilst in quarantine. There are plenty of other ways which can not only keep you active but also make the quarantine fun. Even in lockdown, you might be able to go on a walk. Walking and getting outside brings you your exercise as well as fresh air and a chance to relax. Whether it is a walk alone or a walk with your household there are plenty of pros to participating in a daily walk. Plus, it gets you out of the house for a little while.
If you are unable to go on a walk outside your home, walking around by doing some household jobs will also be helpful. Whether it is cleaning or playing with your kids, the indoor activity will make a difference.
3. Making smart food decisions
Sometimes exercise isn't the best option for everyone. So, an alternative is eating healthy and cutting down on the bad food choices you are making. If you have nice, good food in your home, you are less likely to think about bad, junk foods. Being stuck inside and being demotivated isn't good for our bodies, and it is even worse if you are trying to fuel yourself with junk foods. Therefore adapting to a healthier diet will make that change you need.
Thoughts?
For more advice on living in quarantine or on the coronavirus in general, visit the NHS, or the World Health Organisation. If you're unsure what the symptoms of COVID-19 are, read here.