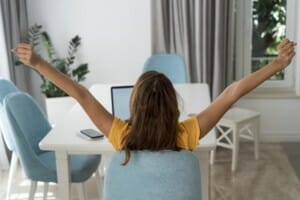 3 Ways To Make Money Without Leaving The House
For whatever reason it may be, creating another stream of income is always a positive. After all, having that extra security in your finances will only benefit you in the long run. There are probably hundreds of part-time jobs you could apply for in your radius. However, not everybody has the time and flexibility for something so fixed. Thankfully, there are other, simpler ways that you can make money, even without leaving the house. It may sound like something too good to be true, but in actual fact, there is a constant amount of steady growth for online businesses, making it easier to make money from your own home. As we know, the internet is full of endless opportunities. The difficulty is finding something to peruse that suits you and your lifestyle. To speed up the process, here are three examples that we think could be of use.
Create An Online Course
People are interested in learning about all sorts of weird and wonderful aspects online nowadays. So why don't you put your expertise to the test and create an online course for other people to develop their knowledge of the subject? Similarly to creating an online course, many people consider online tutoring. After all, if you have a skill that can be shared, why wouldn't you want to make some money from it? However, being an online tutor can take more time than you'd expect, especially if you agree to provide online videos to your clients. Whereas, when developing an online course, you could stick to digital information and prerecorded videos, meaning that once the content has been created, you are free to move forward on your money-making journey.
In comparison, despite both revolving around teaching a skill, creating an online course will save you time in the long term. Once you've developed the content and you've shared it with the online community, anybody can pay to access it at any given time, no matter where in the world they may be.
Although, before jumping straight into the deep end, we suggest ensuring your course has high market demand. This will make the process more worthwhile as your chances of clientele will be increased. Knowing how and where to sell your course is also a very important aspect of the process. In fact, there are countless online marketplaces to which it could be uploaded. Therefore, doing your research and finding out all of the necessary information is essential.
Become A Freelancer
Just as the word itself suggests, freelancing gives you the freedom to work wherever you are, whenever you want. The position is a form of self-employed work where you provide services to other businesses on a project basis. For many people, freelance work begins as a secondary source of income to their main stream. However, as time goes on and your online network increases, you could soon be earning more than you ever thought. Some of the most common freelancing roles include web designers, social media specialists, and content writers. However, the list is endless, so if your specialist service can be completed remotely, why not give it a go?
Sell Your Unwanted items
Selling your unwanted items is a great way to make money and earn some extra cash. There will be so many items around your house that are no longer of any use to you, but could really benefit someone else. So, maybe it's time to complete your annual spring cleaning and clear out everything you don't need. You could find yourself with an extra few hundred pounds if you manage to sell enough items. Selling your unwanted goods online is only getting easier. From eBay to Facebook Market Place, the opportunities are endless. Just take some quick shots of your items, add a small description, and upload them with a set price. They'll be sold and off your hands in no time.
Getting a little extra cash can be more helpful than you may think, even if the money you make goes straight into your savings. Unfortunately, we never know what we are going to face financially. Therefore, being prepared and having money saved up for any emergency will allow you to find stability and steer you away from any kind of payday loan. Despite the risks involved, payday loans could be used as a final decision if needed. For more information, click here.